Crash Course Social Program for Spring 2023
---
Date and time
Tuesday 17. January 2023 at 17:30 to saturday 21. January 2023 at 21:00
Registration Deadline
Wednesday 18. January 2023 at 21:00
Location
Porcelænshaven, Porcelænshaven 20, 2000 Frederiksberg Porcelænshaven
Porcelænshaven 20
2000 Frederiksberg
Crash Course Social Program for Spring 2023
---
Event Description
This is the official Crash Course Social Program for Spring 2023 at CBS, which runs from January 17th to 21st.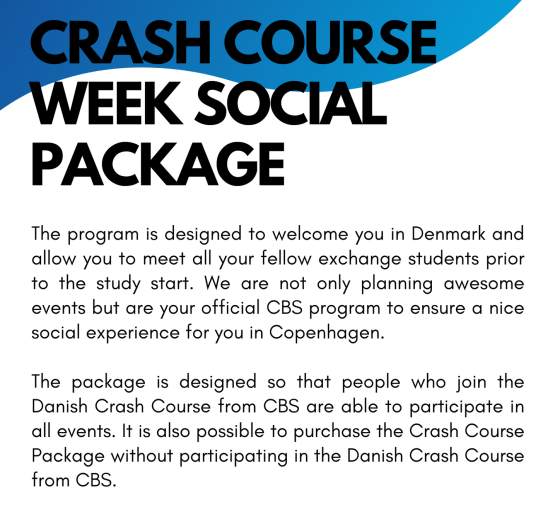 The Danish Crash Course Social Program contains the following:
DANISH HYGGE NIGHT!

What better way is there to start your semester at CBS than with some Danish Hygge? Let us take you to a great smørrebrød place and try out the exquisite open-faced sandwiches while enjoying the company of your fellow students.
QUIZ TIME NIGHT!

Have a fun evening and join the ESP x Quiz Time quiz! We have teamed up with CBS student association Quiz Time to provide you with a tailor made quiz just for you and your fellow exchange students.
INTERNATIONAL BUFFET!

Always wanted to taste kangaroo? Wonder what Rød Grød Med Fløde is? The International Buffet might be your chance to find out! Bring your favorite dish from your home country and taste different food from around the world.

This event depends on your participation. Everybody is suppossed to bring a traditional dish from their home country. The food/dish you prepare should be for approximately 5 people.

We will then arrange the different dishes on each countries table and you will have the chance to explore the buffet and try food from all over the world.
DISCO BOWLING NIGHT!

Have a relaxed evening and play disco bowling with us! Originating as far back as ancient Egypt, bowling is a timeless sport that brings people together. Add a little bit of disco to the mix, and you have a fun colorful and audibly alternative take on your regular bowling with friends.

Once purchased, we will provide you with all the information regarding the times, places and necessary details for all events on January 10th. We are looking forward to meeting you!

Find all other information here: https://linktr.ee/exchangecbs
Organizer Contact Information
Copenhagen Business School
Phone: +45 41852733
esp.intoff@cbs.dk
Organizer Contact Information
Copenhagen Business School
Phone: +45 41852733
esp.intoff@cbs.dk