Introduction Week Social Program for Spring 2023
---
Date and time
Monday 23. January 2023 at 17:00 to Tuesday 31. January 2023 at 23:55
Registration Deadline
Monday 30. January 2023 at 23:00
Location
Porcelænshaven, Porcelænshaven 20, 2000 Frederiksberg Porcelænshaven
Porcelænshaven 20
2000 Frederiksberg
Introduction Week Social Program for Spring 2023
---
Event Description
This is the official Social Program for the Introduction Week for all Spring 2023 Exchange Students coming to CBS!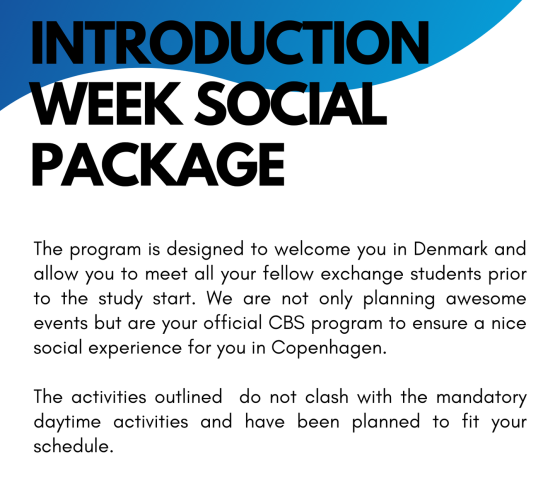 The Introduction Week Social Package contains the following:
BRACELET PICKUP & CAMPUS TOUR!

The bracelet will grant you access to all the events of the Introduction Week Social Package and can be picked up at Porcelænshaven 18A.
After you got your bracelet you will have the chance to join the campus tour. Our CBS volunteers will show you around campus and will answer your questions.

WELCOME GET TOGETHER!

We are ready to kick-off an amazing Introduction Week with you! Not only will we provide you with your bracelet and all the necessary information alongside a cold welcome drink.
This event is also your chance to first meet your fellow exchange students that you will spend the semester with.

COPENHAGEN SCAVENGER HUNT!

Do you want to see other things in Copenhagen besides your class room? We got you covered.
During the city tour we will prepare different stations for you. These cover the historic and known places in Copenhagen. We will provide you at each station with the information worth knowing about the places in question.
The city tour includes Kongens Nytorv and Nyhavn, Amalienborg Slot, Rosenborg Slot, Christiansborg, the Black Diamond, Ofelia Plads across the Royal Danish Opera.

MOVIE NIGHT!

Prepare to be enthralled by Danish cinema verité, led by charismatic and world-renowned Danish actor Mads Mikkelsen in Thomas Vinterbergs Academy Award winning movie Another Round ("Druk" in Danish).

CANAL TOURS!

Sit back, relax and enjoy this one-hour guided tour through the canals of Copenhagen.
The tour will take you through all parts of the old city and pass many of the most famous sights, such as the parliament Christiansborg, the old stock exchange Børsen, the Opera House, the royal castle Amalienborg and of course the world-renowned statue of the Little Mermaid.

DANISH FOLK DANCING!

Year after year, Danish Folk Dancing is the event which gets the best feedback.
Most of the dances are from around 1780-1880, and were originally danced by farmers and poor people.
The dances will be danced at a level so that everyone can participate. A professional folk dancing group will teach you the steps accompanied by a live orchestra. This is not to be missed!

BUDDY DINNER!

Your buddies will organise a dinner for you and your buddy group at their homes. You will spend a hygge night together with your buddies.

WELCOME DINNER & WELCOME PARTY!

The Welcome Dinner is the night you have been looking for! This year we will celebrate the Welcome Dinner with a Spring theme. So put on some fancy cloths and prepare for a fun night.
The welcome dinner includes a buffet and the first two drinks on the house for everybody.
Afterwards we will for the first time ever host the welcome party at CBS. Everything fully private for you and your fellow exchange students.
Once purchased, we will provide you with all the information regarding the times, places and necessary details for all events on January 10th. We are looking forward to meeting you!

Find all other information here: https://linktr.ee/exchangecbs
Organizer Contact Information
Copenhagen Business School
Phone: +45 38153053
esp.intoff@cbs.dk
Organizer Contact Information
Copenhagen Business School
Phone: +45 38153053
esp.intoff@cbs.dk